I'd Go Straight For Him
// April 12th, 2007 // Culture
afterellen.com had an interesting post lately on the top 10 men most likely to inspire lesbians to have boy crushes. So I thought I would share my top 7 boy crushes with y'all. I couldn't quite stretch to ten!
7. Adrian Pasdar
Despite his jaw being ridiculously wide, he has a certain all-American appeal on the show Heroes. And lovely piercing eyes. Lucky lucky Natalie Maines of the Dixie Chicks! (His wife)
6. Jonathan Rhys-Meyers
Impressive as the Young Lion, Henry VIII, in the new series The Tudors. Very pretty in a new wave 80′s kind of way, which is my kind of way!
5. Gael Garcia Bernal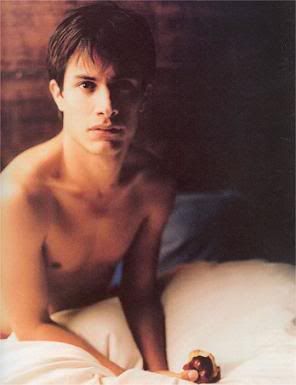 Especially when he played a drag queen in Bad Education. Astoundingly hot Latin goodness.
4. Joaquin Phoenix
Those tormented eyes! Need I say more!
3. Christian Bale
Such dedication to his art, and such lovely eyebrows. Mysterious and possibly homicidal.
2. Josh Holloway
Something about that floppy fringe sets my heart a-flutter. That and the carefully shaped stubble.
1. Justin Timberlake
Maybe it's the dance moves, maybe it's the smoldering stare, or maybe it's the association with Britney Spears, but JT is one hot dude.
Feel free to share your man crushes in the comments! And maybe one day I will delight you with the 80′s version of this list… ah Nik Kershaw…
49 Responses to "I'd Go Straight For Him"
Leave a Reply